Download the show:
(right click, save as)

Episodes of the show before #31 are available here
Send Comments, Questions, and Criticisms to
daveandjoel@gmail.com
!
0:33
Megazone 23 III and 3/4
Joel: Hard on ... that is all.
Dave: Well, not ALL, but most...
0:59
Rule of Rose
Joel: This game looked creepy, but apparently it was lame, most likely from polio. Within the time frame of the game, that is a contemporary reference.
Dave: I wish this game CAUGHT polio.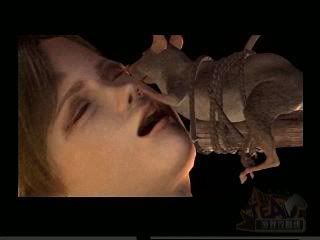 3:12 Feel the rat!

6:44
Missing in Action
Joel: Chuck Norris hates Vietnam. Science fact.
Dave: Chuck Norris hates people that hate FREEDOM.
8:37
Samurai Champloo
Joel: If the premise is good enough, I'll like even its most lackluster implementations. Rapping samurai's is one such premise.
Dave: Beatboxing samurais are my personal kryptonite.
9:33
Earth Worm Jim
and
Secret of Mana
Joel: Well, there's Dave's and my childhood in their perspective nutshells.
Dave: Our lives feel sad now.
10:30
Megazone 23 I
Joel: City = space ship. Girl's = easy. The eighties anime formula was followed perfectly.
Dave: Joel forgets one more. Hair = big.
Joel: Also green.
14:10
Mr Game and Watch
Joel: This character, well loved in my childhood, was resurrected by Smash Brothers Melee, and paid homage to by the animators of Mega Zone.
Dave: It's really postmodern, if you think about it.
16:11
Strokes
: A Dangerous side affect of anime production.


Joel: We normally talk about how anime affects its viewers, but its detrimental impact on its creators should not be ignored.
Dave: Use your head, guys!
16:58
Shinji Aramaki
Joel: This blog is practically a Shinji Aramaki fan site.
Dave: He's my online pretend girlfriend.
18:01
Back to the Future II
Joel: I wish the Doc would have shown up and used his now trash powered Delorian to go back in time and stop Megazone 23 III from being created ... if we had time after killing the parents of the creators of DearS, Desert Punk and Elfen Leid and investing in Microsoft.
Dave: I want to invest in potato futures.
Joel: I'm not going to let you do that.
23:06
Chekhov's Gun
Joel: There is nothing discrete about how Megazone 23 III does anything.
24:17 Zerg Rush!

24:34 Hard ON


Joel: This show could only be made more interesting by references to a turgid penis. And yes, that is the gayest thing I've ever said.
Dave: Turgid penis? Joel secretly writes pirate-based female-demographic romance novels under the pen name "Enola Gaye"
26:13
The Last Star Fighter
Joel: Dave skipped right past this reference.
Goki
, do a podcast about it.
Dave: Goki, do a podcast about why I'm awesome and Joel smells.
27:32
Samurai 7
Joel: IFC tried to capitalize on the anime craze by broadcasting this show. Akira Kurosawa it ain't, but its definitely a passable show.
Dave: You want to know what IFC is showing next? GUNSLINGER GIRL.
28:36
Space Harrier
Joel: Space Harrier: good by itself, great when its a mini game.
Dave: Excuse me, have you seen any sailors?